New beginners' course starts in January, come join us!
The Cambridge Rollerbillies hold regular beginners' skating courses throughout the year designed to teach those with little/no prior roller derby experience how to skate, stop and fall safely. Full kit can be hired from the Rollerbillies including skates, helmets and protective pads. A free to attend meet and greet session will be taking place on Sunday 21st January 2018 at Kelsey Kerridge Sports Centre, more details can be found here. The idea of the meet and greet is to allow those interested to learn more about roller derby, the Rollerbillies and the beginners' course before committing to taking part. The Freshmeat course is a pre-requiste for those wishing to learn how to play or referee roller derby with further formal training available regardless of which route you wish to take. If you have any questions, there will be the opportunity to speak to us during the meet and greet, or you can email info@rollerbillies.com.
If getting involved on-skates isn't for you then there are many ways you can get involved off-skates, either as a non-skating official (NSO), team manager or more generally at our home games, just drop us an email. We appreciate all the hard work and support we receive from all Rollerbillies volunteers and we'd be happy to welcome you into the league in any capacity. Check out our Join Us page for more info.
Cambridge Rollerbillies were formed in February 2008. After we saw the London Rollergirls kick each other's asses at their New Year's Retribution bout in January, we decided that we needed some Roller Derby in Cambridge.
Roller Derby is DIY. It's grassroots. It's not sport as you know it. If you've got the commitment, the creativity, and violence to share, then you belong on the track. We like strong women, and women who want to be stronger. We like making our own entertainment, cutting our own hair, and pushing each other over. We like people who know what they like – and if they think they don't like roller derby, we'll show them exactly what they're missing!!
"Via Roller Derby, the Cambridge Rollerbillies will inspire women to participate in and enjoy competitive sport regardless of their level of prior
experience or current fitness. We aim to give all committed skaters the tuition and training oppurtunities necessary to allow them to excel"
Want to see us play?
The Cambridge Rollerbillies host regular games throughout the year. To check out our latest fixtures, visit our Facebook page to view our upcoming events.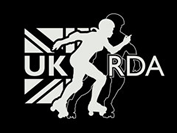 A Word about our Sponsors
Our favoured watering hole, and regular after party venue for our home games. We are very happy to announce that we will now be sponsored by the Blue Moon, Norfolk Street, Cambridge.
Joan's Bean Counting Services, a local accounting service has also very kindly joined our sponsorship team. For more information check out their website here.
The wonderful Beth at CrossFit A14 helps to keep us fit and strong.
And finally, the amazing Injury Active clinic, who are not only our sponsors but put broken Rollerbillies back together on a regular basis. You can find out more about them here.