Give it up for November's Rollerbillie of the Month, Ankle Biter!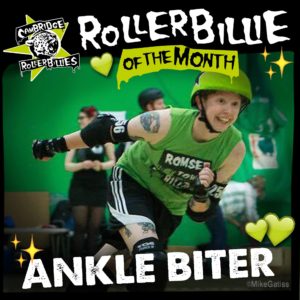 How long have you been skating?
I started skating in Nov 2013.
How did you get involved with roller derby?
I met a couple of players at the gym in Japan and asked them if I could play (I have all the prerequisite tattoos).
How did you come up with your name and number?
I got my name when some one was razzing me and called me an ankle biter and my number is my dads old unit number.
What is your favourite position to play?
Jammer (pronounced yammer).
What is your skate gear of choice?
A pair of brightly coloured shorts and a clear mouth guard.
What is your best derby moment?
Anytime I get to be on track with my team having fun playing roller derby.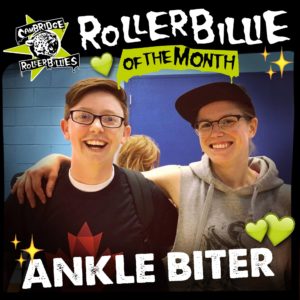 Who is your roller derby inspiration and why?
LIL SLINKY!!! They're an amazing jammer who plays with Stockholm Roller Derby and Team Sweden Roller Derby and they have amazing footwork and skating style. Also they're overall a really cool person.
Where would you like to see the sport in another 10 years from now?
I would like to see the sport continuing to be an open and accepting community of skaters, officials, coaches, and volunteers that make all who want to be a part of the community feel welcome.
What's your day job?
Fixing airplanes.
What do you do when you're not skating?
I'm usually finding dogs to pet and getting mistaken for a 12 year old boy.
What advice do you have for anyone who wants to get involved with roller derby?
Just go for it! It'll seem scary and intimidating at first but the people are really amazing and nice.