This month we are delighted to have interviewed the lovely Emme Fatale.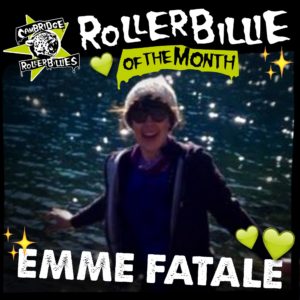 How long have you been skating?
About a year and a half
How did you get involved with roller derby?
When I first moved to Cambridge I didn't know anyone here. Joining the Rollerbillies was both a hobby and the chance to be part of a community.
How did you come up with your name and number?
It took me ages (and many very borderline suggestions from friends) to settle on one I like. I am always intrigued to read about famous women in history who were considered femme fatales such as Mata Hari.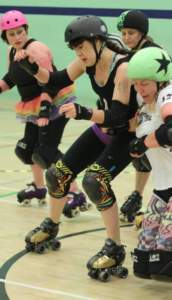 What is your favourite position to play?
I really enjoy both jamming and blocking, though to be honest jamming is always a bit all or nothing for me- it either goes really well or I polish the track with my face!
What is your skate gear of choice?
I skate on Bont Hybrids which I love because they feel little and nippy.
What is your best derby moment (or moments)?
Those moments when you master a skill you have been learning for ages and it finally clicks into place!
Who is your roller derby inspiration and why?
There are many amazing players that could fit this description but mostly I'm inspired by my fellow league members. From the freshest of fresh meat to the dedicated A-team players they are a league of incredible strong women and I have so much respect for that.
Where would you like to see the sport in another 10 years from now?
Thriving, inclusive and never losing that grassroots buzz.
What's your day job? 
Single cell geneticist.
What do you do when you're not skating?
There's time outside skating?
What advice do you have for anyone who wants to get involved with roller derby?
Jump in! You will be welcomed. You will feel the visceral terror and joy of having eight wheels strapped to your feet and being hit by people.