This month's Rollerbillie of choice is the amazing Janegerous! Photos by the marvellous Benjamin Valsler.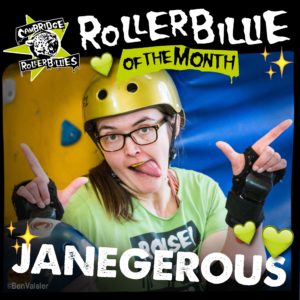 1. How long have you been skating?
I've been skating for about three and a half years, with a little stoppage time for some bone healing!
2. How did you get involved with roller derby?
I had a friend on Instagram who always had amazing leggings…. one day she said she was playing roller derby and I googled it, found there was a league right here in Cambridge, and the rest is history!
3. How did you come up with your name and number?
I really wanted my name to be, or at least incorporate, my real name there were a few to pick from…. I was very nearly Jane Claude Wham Bam….
4. What is your favourite position to play?
I love jamming and have been focused on that more recently, but blocking is also fun… maybe I'm a born pivot. To be honest, I just love playing so I'm pretty easy going as to what position I play.
5. What is your skate gear of choice?
Arius plates changed my life, and Halo wheels… I can talk all day about wheels….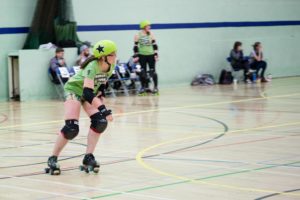 6. What is your best derby moment (or moments)?
There are so many. Some of my best moments have been where roller derby has taken me, playing in tournaments abroad in France and Iceland and experiencing Rollercon!
7. Who is your roller derby inspiration and why?
It's pretty easy to get excited by all those amazing world-famous skaters but what inspires me every week is seeing our new freshmeat skaters and our intermediate skaters improve, and remembering how much we all achieve every time we set our minds to it and how we all support each other to get back up again!
8. Where would you like to see the sport in another 10 years from now?
I'd like for roller derby to navigate that balance between being a mainstream activity but still retaining all of the quirky appeal and the empowering nature of its values. I don't know whether that is even possible! But I have really enjoyed seeing roller derby develop and become more popular, even in the relatively short time I've been involved and I really hope that it continues to do so.
9. What's your day job?
I'm a teaching assistant in a special school.
10. What do you do when you're not skating?
Crossfit, yoga, think about skating, talk about wheels…. and EAT!
11. What advice do you have for anyone who wants to get involved with roller derby?
Just do it. It's so hard to get started, but it is so worth it. When I went to the Freshmeat 'n' Greet for my intake, it took me an hour to work up the courage to go into the hall. If I could go back and do anything it would be to give myself a shove in through that door. I haven't looked back.