This month's Rollerbillie is the wonderful Alice, a.k.a. Primal Queer!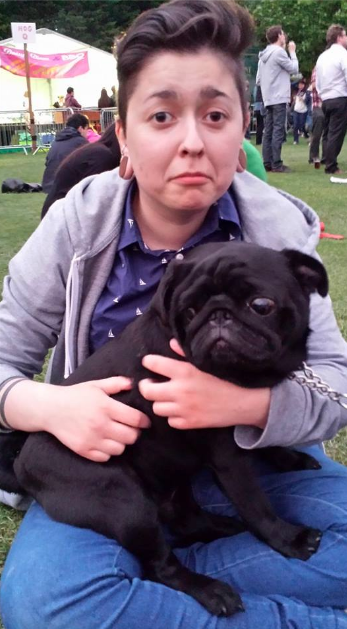 1. How long have you been skating?
Just over two years now my rookie intake was January 2015.

2. How did you get involved with roller derby?
I followed roller derby for a few years before I got the courage to start it. When I moved back to Cambridge and met my girlfriend she encouraged me to join, partially to actually get to see her more as she had truly got the derby bug by this point, but also just from going to the games and meeting a few people from the league I knew these were my kind of people.

3. How did you come up with your name and number?
Well I knew I had to have some kind of pun in there, and I'm all about the queer visibility especially in sports so I settled on Primal Queer. My number is my number for two main reasons: 1953 is the year the structure of DNA was determined from the work of the scientist Rosalind Franklin (even if she wasn't credited for it at the time) and this relates to a lot of my academic and professional career. It is also the year my awesome Mum was born and she is a massive inspiration to me.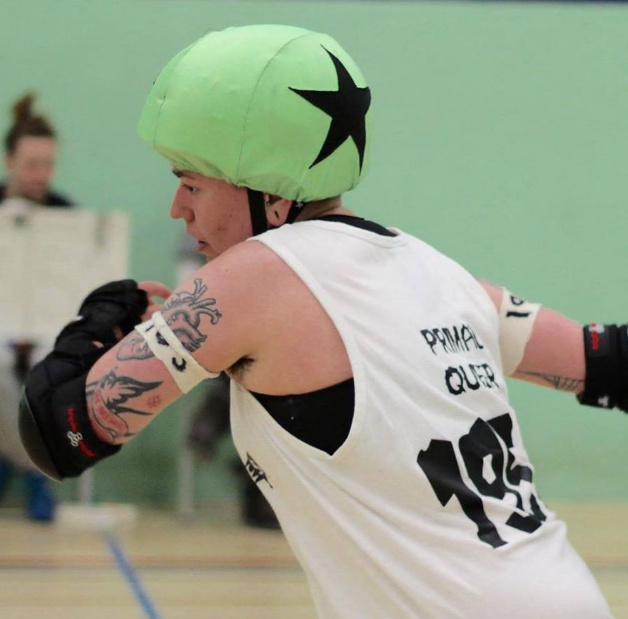 4. What is your favourite position to play?
I have recently really started to enjoy jamming, although I am always happy to block. I am happy as long as I'm not the pivot I don't like having to suddenly switch my focus in the middle of a jam.
5. What is your skate gear of choice?
I skate on lovely lovely durolite bonts, Roll-line Killer plates and Heartless wheels at the moment. I love how reactive and light they are.
6. What is your best derby moment (or moments)?
Probably my first game in September 2016, it was the confirmation I needed to know that actually I could be a roller derby skater despite any doubts I previously had.
7. Who is your roller derby inspiration and why?
I love watching high level roller derby but watching it on a screen or in a massive crowd makes me feel more like a spectator, I feel less connected to it. The people that really inspire me are the Rollerbillies that I get to watch on track doing all the badass stuff they were teaching me just days before at training.
…and Bonnie Thunders.
8. Where would you like to see the sport in another 10 years from now?
I always feel quite divided about this; I want roller derby to be bigger I want it to be easier to find venues I want there to be more avenues for people to go down if they want to make a career out of it. But at the same time I don't know if popular sport as it is has space for the grassroots DIY aspects of roller derby that make it so great. So maybe in 10 years I want it to be a massive sport that is recognized and accessible to all but not before the way we play sport has made space for the parts of roller derby that make it so special.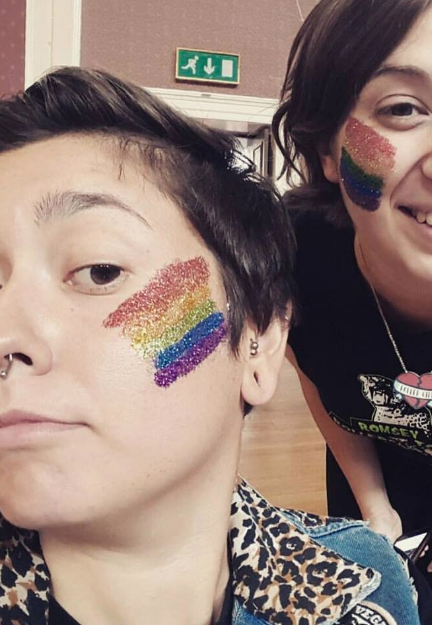 9. What's your day job?
I am a biochemist working in molecular diagnostics.

10. What do you do when you're not skating?
I am a mother to 9 rats, so mainly picking up their poo.
11. What advice do you have for anyone who wants to get involved with roller derby?
It feels hypocritical as I was a massive wimp but you really should do it, it will change your life for the better and you will surprise yourself how much you can achieve and the great people you will meet.