August's Rollerbillie of the Month, Perpetual Commotion! Blocking, jamming, communicating, Commotion can do it all! This month we find out a bit more about our invaluable Head of Logistics.
Perpetual Commotion
Number: #135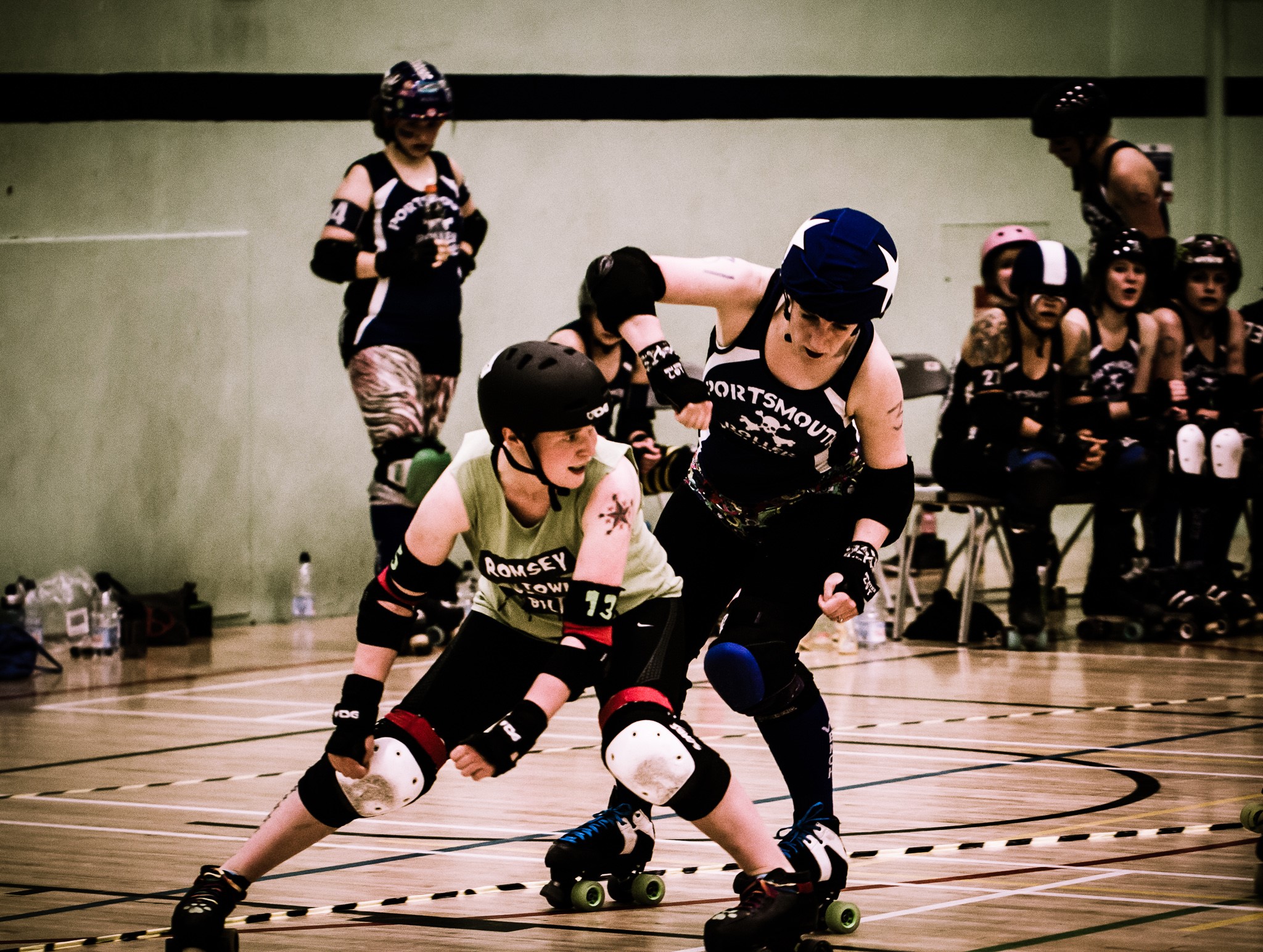 How long have you been skating?
Since January 2011
How did you get involved with roller derby?
I knew Meg A Tsunami outside of derby and she spent ages trying to convince me to give it a go. As a life-long avoider of sport, team activities and roller skates I was more than a little reluctant, but after one session I was hooked!
How did you come up with your name?
I just went with the first thing that popped into my head (I'm not very good at clever puns – you wouldn't believe some of the derby names that have had to be explained to me). My number's a different story though.
What is your favourite position to play?
I'm most comfortable as a blocker, typically of the creepy variety. I love the multifaceted and reactive aspect of blocking, it's as much mentally challenging as it is physical. I'm still unsure how I feel about jamming, but that's probably because I don't understand the subtleties of it yet.
Do you have a signature move?
The one that I'm best at is plowing like a brick wall, but I'm equally well known for falling flat on my ass trying to transition.
How would you describe your playing style?
Stubborn, knock-kneed and relatively inconspicuous; it ain't pretty but it gets the job done.
What is your skate gear of choice?
I finally upgraded from my fresh meat skates this year onto Murillo 340 boots with the Arius plate. I absolutely love them.
What is your best derby moment (or moments)?
I think the Batter C game will always be quite a special one for me. I don't actually remember much about the bout, but the sea of green in the crowd and the deafening cheers was unbelievable!
Who is your roller derby inspiration and why?
This sounds awful, but I have no idea. From people I know personally there's just too many to choose from, and from derby 'super stars' I have to admit that while I love watching good derby, names and numbers are all just a blur.
What are the most significant changes in UK Roller Derby that you have witnessed?
It's got to be the formation of the Heartlands series, which will become the British Champs next year. The fact that we're now at a stage where there are set fixtures, tournaments and ranking systems means leagues get to bout more frequently against suitably matched opponents, which can only be a good thing for everyone involved.
Where would you like to see the sport in another 10 years from now?
I'd love to see derby become so commonplace that sports halls welcome us just like any other sports teams. I think venue problems are one of the biggest things holding back the sport at the moment.
What do you do when you're not skating?
Thinking about skating. Or sleeping. Sometimes both at the same time.
What advice do you have for anyone who wants to get involved with roller derby?
Give it a go; you might just fall in love with it.

Photography: Tom Garnett