August's Rollerbillie of the Month, Bare Thrills! Powerhouse blocker for the Romsey Town Rollerbillies travel team, secretly she's awesome at jamming too, though she won't like you very much for making her do it! Oh and never, never, try and beat her at the after party…you'll lose!
Bare Thrills
Number: #19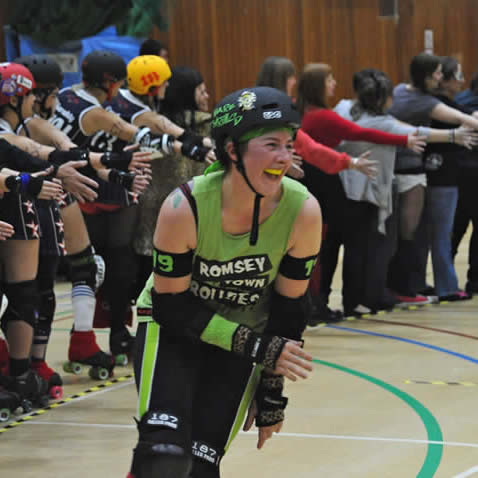 How long have you been skating?
I joined fresh meat in January 2012
How did you get involved with roller derby?
My mate, The Law, found out there was a league in Cambridge and asked me if I wanted to check it out with her and join in on a mid life crisis.
How did you come up with your name?
I've always been an outdoorsy kind of gal and can still be found up a tree on occasion. Also I love extreme sports and some people say I'm a bit of a thrill seeker so the name came quite naturally.
What is your favourite position to play?
I'm a blocker through and through.
Do you have a signature move?
Haha yeah, falling over for no good reason when their is no one near me! Comedy falls are my specialty.
How would you describe your playing style?
There are no words to describe how I play and it certainly isn't stylish!
What is your skate gear of choice?
I'm currently skating on Riedell 495's, the Falcon Pilot plate and Atom Jukes. I'm very happy with this set up but I would like to try the Arius plate someday, we can all dream eh?!
What is your best derby moment (or moments)?
Wow there's too many to mention but I guess one of my favourite things is coaching the fresh meat and seeing the smile on their faces when they nail a skill they've been struggling with.
Who is your roller derby inspiration and why?
I tend to fall in love with the people I've been lucky enough to be coached by but I think my favourites are Scald Eagle and Smarty Pants. Two very different styles that are a joy to watch and you can forever learn from.
What are the most significant changes in UK Roller Derby that you have witnessed?
So much has changed in rules like the removal of minor penalties. Another fab change is penalties only being 30 seconds instead of a whole minute, it's really changed the play in power jams.
Where would you like to see the sport in another 10 years from now?
It would be great for the sport to get more recognition so getting support and things like sponsorship for local leagues would be easier. Plus TV coverage would be awesome!
What do you do when you're not skating?
Winning the after party!!!
What advice do you have for anyone who wants to get involved with roller derby?
Just do it. The derby community is so welcoming, whether you skate or not there is so much you can get involved in and it's crazy fun.