June's Rollerbillie of the Month, the Law! Queen of leopard print and dancing hilariously on the jam line! She's all sorts of epic.
The Law
Number: #W0N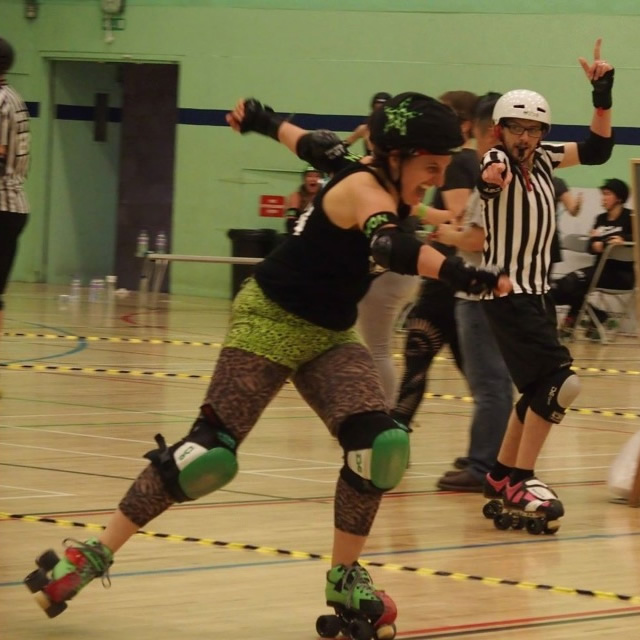 How long have you been skating?
I started roller derby in Jan 2012
How did you get involved with roller derby?
I started roller skating first. A temp at my work couldn't come into work one day, as she was taking her husband to hospital. He had broken his wrist roller skating. All I heard was ROLLER SKATING and joined their club. I then started outdoor skating along side the Cambridge to St Ives guided busway.
I joined the Rollerbillies fresh meat to learn more than skating in a straight line. My intention wasn't really to do the derby bit but I ended up really loving it, even the contact.
How did you come up with your name?
When Bare Thrills and I were a lot younger, we were super star DJs in our own bedrooms. The Law was my 'DJ' name. The number W0N came to me whilst singing along to 'I fought the Law' by The Clash
What is your favourite position to play?
I love jamming. It's so much fun
Do you have a signature move?
Apparently I smile a lot, I also like dancing on my toe stops.
How would you describe your playing style?
I'm still trying to figure that one out.
What is your skate gear of choice?
I'm a bit rubbish in this area. I learnt to skate in a pair of trainers, which had wheels bolted onto the bottom. When I got my own skates, I chose them purely for the colour. Dusti adjusted the trucks for me and I haven't touched them since, other than to change my wheels and tape over holes.
What is your best derby moment (or moments)?
Having never been into sport, it was pretty amazing having my family come to watch me in my first home bout.
Another big achievement was announcing a whole game without swearing once.
Who is your roller derby inspiration and why?
In our league it's really hard to pick, I have probably learnt something from absolutely everyone. A couple of people do spring to the top though, Test Monkey and Hermaphroditie.
Not only are they both amazing skaters, in completely different ways, they are both very generous in developing other skaters.
I also love watching Shaolynn Scarlett from LRG. She always knows exactly where she should be on the track. I would love to have her derby brain, mine definitely has a bit of a delay.
What are the most significant changes in UK Roller Derby that you have witnessed?
When I started it was pivot line starts and there were minor penalties. I don't miss that.
Where would you like to see the sport in another 10 years from now?
I'm really not sure but I love the derby community on the whole right now, in that I can visit any city in the UK and practice with the local derby team. I hope that never changes. I also hope that the unofficial no booing at games rule never goes.
What do you do when you're not skating?
Drinking a lot of tea and watching either very bad or very good telly.
What advice do you have for anyone who wants to get involved with roller derby?
Totally do it. It is so much fun and I have met some amazing people, who will hopefully be friends for a very long time.